Follow the ABCs of Safe Sleep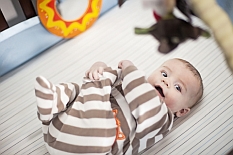 A   Alone:
Baby should sleep Alone.
B   Back:
Put baby on their Back.
C   Crib:
Put baby in a safe Crib.
About 90 babies die each year in New York State from sleep-related causes. Right from the start, help your baby sleep safely every time sleep begins.
ALONE
Put baby on their back to sleep – even if baby was born early (premature).
Your baby should not sleep with adults or other children.
Share your room, not your bed. Room-sharing lets you keep a close watch over your baby while preventing accidents that might happen when baby is sleeping in an adult bed.
Nothing should be in the crib except baby; no pillows, bumper pads, blankets or toys.
BACK
Put baby to sleep on their back, not on their tummy or side.
Do put your baby on their tummy every day when baby is awake and being watched. "Tummy time" helps baby develop strong shoulder and neck muscles.
CRIB
Use a safety-approved* crib/bassinet/playard with a firm mattress and a fitted sheet.
If baby falls asleep on a bed, couch, armchair, or in a sling, swing or other carrier, put baby in a crib to finish sleeping.
*For crib safety, go to the Consumer Product Safety Commission
Other Tips:
Use a one-piece sleeper. Don't use blankets.
Be sure baby is not too warm.
Breastfeed your baby.
Try using a pacifier for sleep but don't force baby to take it.
Get your baby immunized.
If your baby is in a front or back baby carrier, be sure that baby's face is always visible.
Never use a car seat, baby swing, carriage or other carrier without properly fastening all the straps. Babies have been caught in partially fastened straps and died.
Make sure no one smokes in your home or around your baby.
Don't use alcohol or drugs.
Don't rely on home baby monitors.
Make sure everyone caring for your baby follows these tips!
Click here to download a PDF version of this information.
For more information visit:
NYSDOH: health.ny.gov/safesleep
American Academy of Pediatrics: SIDS and Other Sleep-Related Infant Deaths